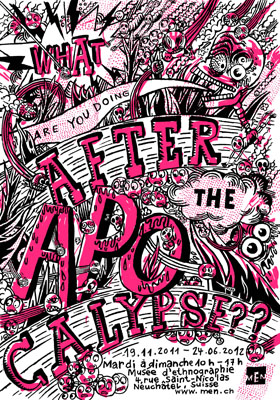 EXHIBITION "WHAT ARE YOU DOING AFTER THE APOCALYPSE ?" | 2011
Scenography

An alternative look at the Apocalypse through the work of 3 swiss artists and 6 young master graduates in ethnology. The whole exhibition is set in the purposedly trashed remnants of previous exhibition Bruits. Highlights include a 52m long black & white Panorama handpainted by MS Bastian & Isabelle L. and an 18m long Atomic Submarine made by François Burland.
more info on the exhibition: []
Poster Credit: MS Bastian & Isabelle L.
Photo Credit: MEN / Alain Germond